Harrell - Mackenzie Quarter Horses :: Stallion Alley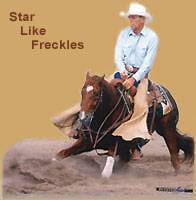 The Harrell and Mackenzie ranches have established breeding programs that combine cowhorse, performance, and speed bloodlines to produce versatile, all-around Quarter Horses.
The programs are headlined by these outstanding stallions: "Billy Red Baron", the 2005 Oregon Quarter Horse Association Reserve All-Around Performance Stallion; "RR Frenchman's Bully", a VGBRA enrolled son of leading barrel sire "Frenchmans Guy", and "Payin Doc", a son of "Paid by Chic" out of leading NCHA producing dam "Docs Serendipity", and "Star Like Freckles", an own son of All-time leading sire "Grays Starlight".
The progeny of these headline stallions are offered each year at the annual Harrell-Mackenzie Performance Quarter Horse Sale, and have become a recognized source of arena caliber geldings and futurity and breeder prospect fillies.
Two exciting new additions to our Stallion lineup are "Pay The Sixes", a 2015 son of Four 6666's World Champion and Superior Ranch Versatility Champion, "Sixes Pick" ,and out of multiple stallion and performance producer dam "Raise the Pay". We also had the opportunity to pick up "Call Him Mr Smooth" 2017 son of "A Smooth Guy", son of leading barrel sire "Frenchmans Guy" and dam "Run for Lacee", an own daughter of "Special Leader", who was successful on the race track.
Pay The Sixes

Pay The Sixes is a classy cowhorse stallion introduced to the OV program …a stunning young horse with very complete, balanced conformation and bred-in cowhorse ability. His 6666's Ranch sire Sixes Pick was AQHA World Champion Ranch Versatility Horse and sire of Ranch Versatility World Champions. Dam Raise The Pay produced noted South Dakota stallion Irish Pay, PE $213,000. Backed by the power of Leading NCHA/ NRCHA Sires Tanquery Gin, Tenino Badger and Genuine Doc, "Sixes" foals are outstanding versatile athletes!

Classy Young Cowhorse Stallion …A Son of AQHA
Ranch Versatility World Champion Sixes Pick!

Click Here For Video

TANQUERY GIN (Doc O Lena)

Sire: SIXES PICK

NATURAL PICK (Tenino Badger)

PREFERRED PAY (Dash For Cash SI 114)

Dam: RAISE THE PAY

DOCS MONKEY (Genuine Doc)





Call Him Mr Smooth

FRENCHMANS GUY (Sun Frost)

Sire: A SMOOTH GUY

DOCS MOVIDA (Dry Doc)

SPECIAL LEADER SI 103 (Special Effort SI 104)

Dam: RUN FOR LACEE SI 97

BUGS FOR CASH SI 93 (Lil Easy Cash Si 104)

Call Him Mr Smooth, our choice from the 2018 Myers Performance Horse Sale (SD), is a first class son of Barrel Futurity and Rodeo Champions sire A Smooth Guy. A superb athlete with outstanding conformation, his powerful Performance, Rodeo, Barrel and Race pedigree highlights Leading Sires Frenchmans Guy and Sun Frost. Dam Run For Lacee AAA is daughter of World Champion runner Special Leader si 103. Very intelligent, free moving and talented, we look forward to this colt's future development as a performer and sire.

A Standout "Smooth Guy" Athlete Backed by
Performance, Rodeo and Barrel Horse Legends!

RR Frenchmans Bully

Hi-Powered Performance Blood

. Frenchmans Bully is a first class athlete backed by world class performance and race blood. Sired by $14 Million Sire Frenchmans Guy and out of a producing dam (PE $32,000), grandsires Sun Frost and Magnolia Bar AAAT (PE $307,000) add real breeding power. "Bully" sires good looking athletes with the movement, mind and talent to excel on the ranch and in futurity competition. With rodeo and futurity earnings over $120,000 (to date), his progeny have been outstanding performance horse investments.

Hi-Powered ProRodeo & Futurity Proven Blood
...$120,000 Progeny Earnings!




SUN FROST (Doc's Jack Frost)

Sire: FRENCHMANS GUY

FRENCHMAN'S LADY (Laughing Boy AA)

MAGNOLIA BAR AAAT (Three Bars TB)

Dam: MAGNIFIC DIAL

OTTIE DIAL (Johnny Dial AAAT)





Black Type Pedigree >

Payin Doc

SMART CHIC OLENA (Smart Little Lena)

Sire: PAID BY CHIC

OAKLYNN (Doc's Oak)

DOC BAR (Lightning Bar AAA)

Dam: DOC'S SERENDIPITY

BILTOFT'S POCO (Bar Mix)




Royal NCHA Blood... Standout Progeny

Payin Doc is a standout athlete deep in the blood of NCHA/ NRHA Legends. A grandson of Leading Sire Smart Chic O Lena (AQHA World Ch. Cutting & World Ch. Reining), his royal pedigree is anchored by All-Time Leading Producer dam Doc's Serendipidty, 1977 NCHA Futurity Res. Champion. Her 17 lifetime offspring include nine performers earning over $286,000. Sire Paid By Chic, World's Greatest Horseman Champion, LTE $142,000 is a NRCHA/ NRHA/ NCHA Sire, PE $300,000. Payin Doc is a sire of elite athletes …daughters are outstanding broodmares!

Championship NCHA & AQHA Blood ... An Own
Son of All-Time Producer Doc's Serendipity!
Now an Impact HR-OV Broodmare Sire!

Star Like Freckles

A Grays Starlight... Bred To Be A Cowhorse

PEPPY SAN BADGER (Mr San Peppy)

Sire: GRAYS STARLIGHT

DOC'S STARLIGHT (Doc Bar)

IM A FRECKLES TOO (Jewel's Leo Bars)

Dam: MEA FRECKLE

POCO RYTHMN (Poco Tivio)





Black Type Pedigree >

Billy Red Baron




RED BARON BELL

Sire: MR BARON RED

TWO EYED PATTI

BILLY TWO HAT 2

Dam: LADY TWO HAT

TWO EYED STINKER

Powerful All-Around Performer and Sire

. Billy Red Baron is a Pitzer Ranch (NE) bred son of AQHA World Show Superhorse stallion Mr Baron Red. A superb ranch horse, cowhorse and arena roper, "Billy" was awarded OQHA 2005 Res. All-Around Performance Stallion earning points in roping, working cowhorse and halter. A potent sire of his own powerful conformation, size, trainable mind and super disposition, Billy Red Baron's outstanding daughters are now featured in our broodmare band.

Powerful, All-Around Performance Stallion
... Now A Feature HR Broodmare Sire!