Harrel-Mackenzie Quarter Horses :: Sales & Events
2008 SALE SUMMARY

Harrell Hereford Ranch
#
KIND
AVE$
63
Yearling Bulls
$3,717
24
Two Year Old Bulls
$2,648
87
Total Bulls
$3,422
19
Registered Heifers
$1,248
25
Commercial Heifers
$ 925
Harrell-Mackenzie Quarter Horses
#
KIND
AVE$
20
Performance Prospects
$3535
3
Yearling Fillies
$1033
3
Broodmares
$2033
26
Total Quarter Horses
$3092

Auctioneer: CD Butch Booker
Sale Management:
United Livestock Brokers, inc.
Harrell-Mackenzie Quarter Horses
11th Annual Production Sale
Monday, March 2, 2009 2:30 p.m. (PST)
View 2008 Sale Results
Sale Horse Preview
Sunday, March 1 at 1 pm
Mackenzie Ranch Headquarters
Quarter Horses For Sale
Two & Three Year Old
Gelding and Fillies
• Ranch Area Prospects
• Broodmare Caliber Fillies
Horses are ranch-started Fall 2008 and ridden through 2009 calving.
Broodmares...safe in foal!
Broodmare bands built upon
Doc Bar, Two Eyed Jack, Sun Frost, Driftwood, and Weiscamp Bloodlines
2008 Sale Catalog Download
Dial up users (PC), we recommend you right-click to save the catalog file to your computer to view it offline.
Quarter Horses: Lots 1-27
Sale Info & Reference Sires/Dams
Yearling Heifers: Lots 100-119
Hereford Bulls : Lots 1-99
ENTIRE CATALOG (6,855 kb)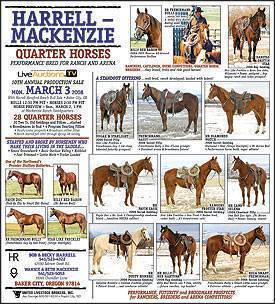 View 2007 Sale Results